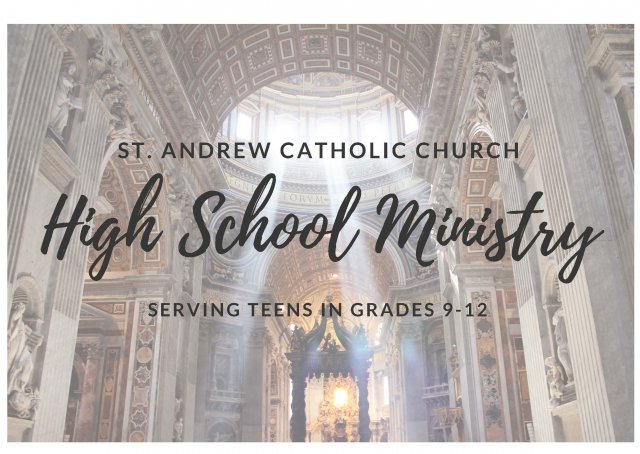 Welcome to St. Andrew Catholic Church High School Program!
Our program is for high school students in grades 9-12 and spans two nights: Wednesdays and Sundays. Wednesdays are Faith Formation nights in which youth attend classes designed to instruct them on basic Catholic teaching and develop their understanding of our faith. Sundays are Youth Nights structured to educate our youth and foster a vibrant teen community within our church. Our desire is to create an environment so rich with God's love that it empowers teens to be witnesses to their faith in all aspects of their lives.
For more information, please contact:
Coordinator of Youth Ministry
Attention parents of our high school Confirmation students: Confirmations that were schedule for May 2020 have been postponed. We will notify you when a new date is scheduled. Please contact Stephanie (ym7067@standrewchurch.net) if you have any questions.

As we try to follow every necessary precaution during this current situation, we recognize that our formation can't simply stop. We encourage and support parents in their role as their children's primary teachers of the faith and we are developing new ways to engage our young people even while we cannot meet. Our hope in doing this is that all our young people as well as their families will continue to be in union with the Church by praying through the Sunday readings at home and watching the live stream Masses every Sunday. Please know that we are thinking of all of you and we pray that all families can be unified spiritually with the Body of Christ and with one another. If you aren't currently getting our remind text messages, please call the front office so that we can get you added to our remind list! We appreciate your understanding and miss all of our St. Andrew family!

Atención padres de nuestros estudiantes de confirmación de la escuela secundaria: las Confirmaciones que estaban programadas para mayo de 2020 se ha pospuesto. Le notificaremos cuando se programe una nueva fecha. Póngase en contacto con Stephanie (ym7067@standrewchurch.net) si tiene alguna pregunta.

Mientras tratamos de seguir todas las precauciones necesarias durante esta situación actual, reconocemos que nuestra formación simplemente no puede detenerse. Alentamos y apoyamos a los padres en su papel de maestros primarios de fe de sus hijos y estamos desarrollando nuevas formas de involucrar a nuestros jóvenes incluso cuando no podemos encontrarnos. Nuestra esperanza al hacer esto es que todos nuestros jóvenes, así como sus familias, continúen en unión con la Iglesia al rezar a través de las lecturas dominicales en casa y ver las Misas en vivo todos los domingos. Tenga en cuenta que estamos pensando en todos ustedes y oramos para que todas las familias puedan unirse espiritualmente con el Cuerpo de Cristo y entre sí. Si actualmente no recibe nuestros mensajes de texto de recordatorio, llame a la oficina para que podamos agregarlo a nuestra lista de recordatorios. ¡Apreciamos su comprensión y extrañamos a toda nuestra familia de San Andrés!