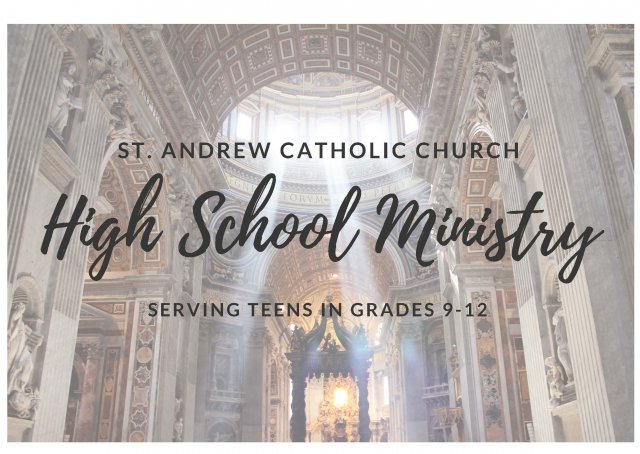 Welcome to St. Andrew Catholic Church High School Program!
Our program is for high school students in grades 9-12 and spans two nights: Wednesdays and Sundays. Wednesdays are Faith Formation nights in which youth attend classes designed to instruct them on basic Catholic teaching and develop their understanding of our faith. Sundays are Youth Nights structured to educate our youth and foster a vibrant teen community within our church. Our desire is to create an environment so rich with God's love that it empowers teens to be witnesses to their faith in all aspects of their lives.
For more information, please contact:
Coordinator of Youth Ministry
We are currently offering Faith Formation at home with the goal of returing in classroom in January. To register your children for OEC this year, please contact the office to make an appointment with Ninfa Muench: 281-452-9865 or
cce7067@standrewchurch.net
.
Actualmente estamos ofreciendo formación de fe en casa con el objetivo de regresar al aula en enero. Para inscribir a sus hijos en la OEC este año, comuníquese con la oficina para hacer una cita con Ninfa Muench: 281-452-9865 o
cce7067@standrewchurch.net
.